We're excited to hear from Pepijn Janssens, our Chief Marketing Officer and Managing Director Americas, about the latest development at the Amber Beverage Group. He sat down with the Chief Editor of The Spirits Business, Melita Kiely, and the outcome is really interesting! Click here to read the full magazine! Thanks and full credit to The Spirits Business.
While Amber Beverage Group is strong when it comes to vodka and Tequila, the company is eager to tap into brown spirits, as chief marketing officer and managing director for the Americas Pepijn Janssens tells Melita Kiely.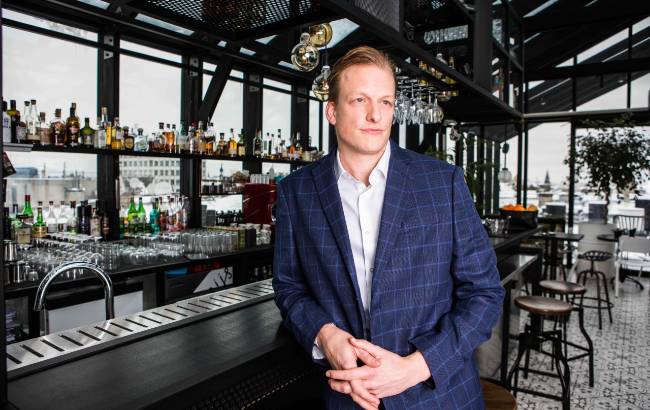 *This feature was originally published in the April 2021 issue of The Spirits Business
The colour‐changing chemistry of pastis is one of Pepijn Janssens' first recollections of alcohol, thanks to a youth spent holidaying in France. He recalls the hypnotic sight of adding water and watching as the liquid transformed from a dark amber colour to take on a milky, cloudy appearance.
Born and raised in Belgium, Janssens originally pursued a career in law, but a "panicked" first few days on the job set off the globe trotter in him. "Out of the blue", Janssens received a call from a former landlord who offered him an interview with an import‐and‐distribution company in East Africa. "I flew to Tanzania, I had the interview and I took the job, and spent five years of my life in East Africa doing distribution for everything from Philip Morris cigarettes to San Pellegrino water and in between that Diageo and a lot of alcohol brands," he recalls.
He says the experience "completely changed my life", not least because it was the place where he met his wife and had two children. But the business acumen needed in that part of the world was "completely different. It's been the most educational experience I've had."
With two young children to care for with his wife, Janssens and his family made the decision to relocate closer to home, where they could enjoy more "stability, safety, where we don't sleep with machete knives under our bed and an electronic gate around your house".
In 2019, Janssens joined Amber Beverage Group, a subsidiary of Stolichnaya Vodka owner SPI Group, as chief marketing officer.
As of last May, Janssens holds more than one title after also being appointed managing director for the Americas. "I call it my day job and my night job. The day job is my marketing job – and we have a marketing team and do marketing things," he explains.
"Then at around four or five in the afternoon, the US starts waking up and I move into my evening job, which can go all the way to 11. It depends; where there's fire, I go."
NEED TO RESTRUCTURE
Like many in the industry, much of Janssens' time was spent on a plane before the pandemic. But for the past year, Janssens has found himself grounded due to the Covid‐19 crisis, and is now based at home in the Netherlands. Also not unique to Amber Beverage Group has been the firm's need to restructure certain parts of the company as a result of the Covid‐19 pandemic.
"Covid has impacted most companies in such a way that there was a first reaction, which was trying to figure out how to protect the bottom line; how do you protect the project we're in? Now, everybody kind of knows what lockdown means, but the first time it happened, you couldn't describe it, you had no clue what that meant; you would have run to the hairdresser if you knew back then," he quips.
As the company needed to restructure the global team, Janssens put himself forward for the task of running the Americas. "I had worked Latin America before, but I've never done the US, and the US is what they call one of the most complicated but also the biggest markets in the world, and I really wanted to kind of go out there and get to know it," he explains.
The US section was in need of a rescue plan after "losing money year on year". As someone who admits he "likes turnarounds", Janssens was instrumental in enhancing how Amber Beverage Group works in the region to turn the States into a profitable business – which, happily, it is now, he says.
"We were our own importer in the US and when you're your own importer you need to hire people to go out and sell your product, which creates an overhead," he explains.
"We've flipped to a model where we've found importers for all the brands, which means at this point there's only one person [from our team] in the US.
"That shift really changed how the financial business model looks. We're growing volumes of every brand but it's not that that has actually changed it into a profitable business. It was rethinking the model that we had that actually made it profitable."
When Janssens joined Amber Beverage Group, one of the brands he was most excited to work on was Moskovskaya Vodka – "a diamond in the rough", as he describes it.
"Moskovskaya has over 100 years of history and goes back all the way to the Russian Empire, there's so much there. But nobody had really worked on marketing the brand; there was nobody really looking at the brand persona, what it's about or what is attractive about it. So, when I joined, I said, are we allowed to do proper marketing and grow the brand, and the answer was yes. So the ambition was there."
First on the agenda was a redesign of the bottle to give a "more modern look and feel".
The new look was unveiled in August 2019 and backed by a global campaign. "We've created a couple of really fun campaigns, where I feel the brand now is considered 'cool'," Janssens adds. "It's very rewarding because the importers we work with have never received any kind of marketing push from us before."
A TOUCH OF PINK
Next up was the launch of Moskovskaya Pink, the brand's first line extension, made with raspberries, lime and a hint of juniper.
"We've never done flavours, we just had one SKU, that's it," Janssens says of the vodka brand. "Pink was very obvious for me because we're living in an Instagram reality right now. For us to go in the pink vodka direction was about flavour on one side, which is normal for vodka, but, secondly, it was more about being an online brand.
"We don't have multi‐million‐euro budgets, hence for us social media, as a way of advertising the brand, is the place where we will have to fight the battle and create assets, not POS [points of sale], but SKUs that fit in that range."
In January, Moskovskaya tapped into another burgeoning trend: hard seltzers.
The range comprises two flavours that come in 250ml cans: Raspberry and Lime, and Ginger and Mint, both with an ABV of 4.5%.
Raspberry and Lime incorporates Moskovskaya Pink into the mix, while the ginger and mint flavour is made with Moskovskaya Osobaya Vodka.
"With hard seltzers, we said we'll do a line extension, mainly because we once again wanted to show the brand is willing to move, but secondly with lockdown, we see a lot of in‐home consumption, and it's such an easy thing to play with online, in people's homes, compared with a one‐litre bottle of vodka," Janssens explains. "If you're Stoli, you need to come up with another flavour. We're doing things for the first time, so everything we do gets attention, and the importers that work with the brand are grateful because they haven't had anything before.
THE RUSSIAN EMPIRE
Like Stoli, Moskovskaya can be traced back to the Russian Empire, and when the empire expanded, so did Moskovskaya, as it was distributed throughout Europe.
"When the brand came into the hands of SPI, its European market was already built," Janssens adds. "Moskovskaya already has a track record in markets like Italy, Spain and Portugal of 50,000‐100,000 nine‐litre cases.
This is where the core is; the Baltics and European markets." Since 2019, Janssens says Moskovskaya has "opened around 20 new markets, and in the ones where we have big volume, meaning we have a lot of brand loyalty, we're just at the beginning of marketing, so we can take the step up and grow the volumes in those markets".
Unfortunately, Moskovskaya's core markets in Europe – Italy, Spain, the UK and Portugal – have been "hit hardest" by the pandemic due to their on‐trade focus. "There are markets that are really suffering in this Covid period; it's the ones where retail is not necessarily a big part of the total consumption and the on-trade is the majority, and when I say the majority I mean 90% of consumption happens in the on‐trade."
The brand is available in the US but has not yet received the attention it needs to grow there, Janssens says, and this will take time.
It's a risk to try and grow the brand there before it's ready, he adds, and believes efforts would be better spent enhancing other markets first.
The vodka brand is already well on its way to becoming a million‐case‐seller, and now shifts "close to half‐a‐million nine‐litre cases" per year.
"We want to be a million‐case brand, and we're on track," Janssens insists, and he hopes to achieve this by 2025/2026. "There's also the flipside with Covid," he explains. "For example, the Baltics, which is very retaildriven, is doing way better than normal.
Volumes fluctuate, where they go down on one side, they go up in another part of the world. It will require heavy investments to take on the US, but I think it will give us the foundation to become one of the global vodka players."
STRONG TEQUILA PORTFOLIO
However, Amber Beverage Group is not just about vodka. Janssens believes the group's Tequila portfolio is so strong it will eventually take over the vodka side of the business – most likely coinciding with Moskovskaya's one‐million‐case feat when it happens.
Vodka and Tequila play very different roles within the Amber Beverage Group portfolio, however, as Janssens explains. Vodka is a "low‐margin, high‐volume" business model, while Tequila is all about "less volume, but higher margins". Among the company's core Tequila brands are Kah Tequila and Rooster Rojo Tequila.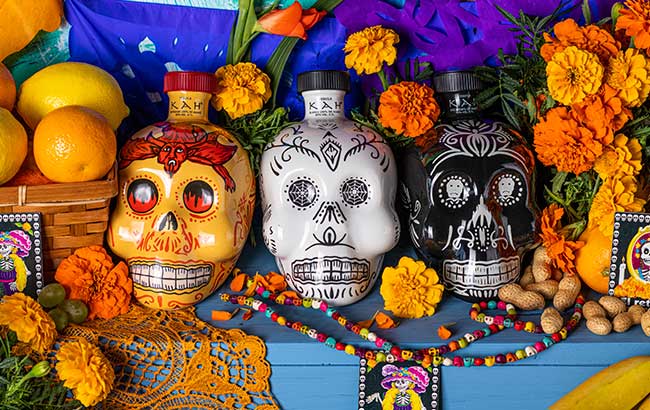 Last September, the company acquired 220 hectares of agave fields in the Los Altos de Jalisco region of Mexico to support its Tequila production. "We bought a [Tequila] factory, then we bought the agave fields, which means currently we are impacted by high agave prices, but we have already set up the solution of increasing the margins in the business that we're in," he says. "We're building the business in the US market, which is the key Tequila market – Mexico and the US, 95% of all Tequila is sold there, so they're two markets that we actually need to ace."
Janssens is confident the group will be able to do that with the help of Bodegas La Negrita in Mexico, Amber Beverage Group's new distribution partner in the region as of November 2020.
Riga Black Balsam is another important player in the Amber Beverage Group stable.
Janssens describes it as a "funky brand", saying: "The loyalty towards this brand from everybody who has been connected to the Soviet Empire at one point or time is so insane." Wherever he takes the brand, from certain parts of the US to Hong Kong, Janssens says it takes little more than publicising the brand's availability online to be sought out by Latvian fans.
CASES START MOVING
"I'll give you an example, I went to a trade fair in Hong Kong," he says. "Day two, a Latvian person walks through the hall, sees the bottle, asks for a shot, and we chat. The next day, I have 50 Latvians or Russians passing by the booth – in Hong Kong. The fourth and last day, I had 200 people grouping together, and I realised at this point, this brand is amazing. Because wherever you go, the US, the Americas, it really doesn't matter, you don't need to do anything, you just say it's available and cases start moving."
The brand shifts around 200,000 nine‐litre cases, mostly concentrated in places like Russia, the Baltics and Ukraine. The challenge is how do you take that local exposure and replicate it globally.
"Covid has created a standstill for many people where you re‐evaluate your business, and so we looked at creating a five‐year plan for every brand," he says. Part of Riga Black Balsam's strategy is creating an "accessible line extension that plays into the shot category".
Stablemate Cross Keys Gin is also in line to have a packaging overhaul –"let's call it version 2.0" – which Janssens hopes will help establish the brand in the UK. Both Riga Black Balsam's new line and Cross Keys Gin's new look are expected to be released by the third quarter of this year.
MERGERS AND ACQUISITIONS
Ultimately, as Janssens says, Amber Beverage Group aspires to build a rounded range of spirits, and as a third responsibility with Amber Beverage Group, one that "doesn't fit on my business card", Janssens also sits on the company's mergers and acquisitions team. He says the company is constantly seeking potential acquisitions to grow its portfolio and turn the company into a truly global competitor at all levels.
"We are not here to play a vodka‐Tequila game; the business we're in is to build a balanced portfolio, and we have a lot of gaps in the portfolio that are not covered," he says. "We don't have brown spirits, there's no Scotch in there, no Bourbon. Vodka and Tequila‐wise, we're good; everything else is practically absent, there are gaps – tremendous gaps – that either need to be solved by creating our own brands or by buying an existing brand or business.
"Every pillar in the portfolio carries a healthy amount of weight, and they complement each other. With vodka, we have the biggest pillar, and Tequila is coming up, but we have other pillars that we need to build from scratch. So when we speak again in four or five years, who knows what else we'll have to talk about."